Do you have a special place or childhood memory you would like to make a keepsake?
The Kaech Homestead - c. 1929
ORDER A BEAUTIFUL AND LASTING CUSTOM PAINTING MADE TO YOUR SPECIFICATIONS!!!
---
FREQUENTLY ASKED QUESTIONS:
Do you work from a photograph?
Yes. I prefer to work from a clear image, preferable digital and in Jpeg format. Please note:- the photograph must be your own, and not one uploaded from the internet (Photographic websites, Google images/Flickr.com etc) without the owner's permission as this is an illegal a breach of copyright. I prefer my work to be original and not based on anyone's artistic photographic compositions.
How much can I expect to pay?
This will depend on how large or small you want the painting to be and the extent of the detail required. When you email me I will provide a full guide to pricing to the sizes of paintings.
What if I am not happy with my painting or change my mind?
I want you to be completely happy with your painting. I believe it is important that you can see how the work is progessing on a regular basis, so I mail progress photos as certain increments of progression are completed. However, if you are really not happy with the completed painting before shipping, then you are not obligated to make the balance of the last payment. The money collected is non refundable.
For any reason if you change your mind about the commission before the painting is halfway done and cancel, please be aware that you will lose your 15% deposit.

---
THE PRODUCTS: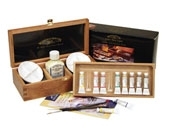 Artist Quality Winsor and Newton Watercolor Paint
100% Acid Free Rag, 300lb Watercolor paper which remains flat.
The edges have a clean 3/4" to 1 - 1/2"" exposure of the paper for framing.

THE PROCESS & TERMS:
Here is how it works:
Prices & terms will be agreed to by both parties in a written agreement beforehand any money is exchanged or work starts.
1.) You provide good quality reference photos (copies).
2.) You pay a small deposit....15% with the acceptance of reference photos & signed agreement - before work begins.
3.) Half way through, I have you inspect the progress in person or by email photos, your choice. If its acceptable, send me
50% of the remainder. (I am willing to send addtional photos as the work progresses before the halfway point if desired)
4.) Have you inspect the final result, (again either email or in person).
5.) You pay the remaining balance when it's picked up or before I mail it.

TIMING:
My usual turn around time is 10 days to 20 days. Sometimes quicker! If I already have one on the studio table at the time of your request, I will let you know what the time adjustment will be if any.
If you have a time deadline for a gift or framing, please left me know when you need it in the initial contact. Every effort will be made to get it finished for you when you need it.
PRICES:
This will depend on how large or small you want the painting, on the complexity of the subject , ie; whether you want a plain background or a completely detailed background scene. So basically, its the extent of the detail required. If you email me I will provide a full guide to pricing to the sizes of paintings.
PAYMENT METHODS:
| | | |
| --- | --- | --- |
| | Take me to: | |
---
It would a pleasure to create for you a lasting and valuable piece of art which is sure to please!
QUESTIONS? Email: mary@maryirwinwatercolors.com